As you are more than aware, we are going through a major crisis right now, and that's putting it lightly. But instead of giving in to the doom and gloom, Jay Geier and the Scheduling Institute want to focus on how you can remain productive and optimistic during this unprecedented situation. Jay held a Crisis Management Virtual Conference on March 27th that provided actionable steps for private practice owners to take right now to help minimize the economic consequences during this period of uncertainty. During the upcoming days and weeks, we will be sharing some of what he covered here on this blog.
We're Here to Help You Minimize Economic Consequences to your Practice
The Scheduling Institute was created by Jay Geier to help you protect and grow your practice, and the current crisis doesn't change that. We are going to help you stay focused on what you can control and teach you what steps to follow to protect your business so that your practice can rebound as quickly as possible. What you will not learn from Jay is how to wash your hands properly, what protective measures you should take while somewhere other than your home, or any other health-related facts. We encourage you to continue getting that sort of information directly from the CDC.
And yes, we realize that it may be hard to focus right now when people are scared and filled with uncertainty about the future. But there are actionable steps, concrete ones, that private practice owners can take to get through this period, and that's what our mission is going to be all about during this unique period in our nation's history.
It's Time to Step Up: The First Decision You Need to Make When It Comes To Crisis Management
The word crisis means "a time of intense difficulty, trouble, or danger," but it also means, "a time when a difficult or important decision must be made." And we believe that the second part about making decisions is the key to how well you will come through our current time of intense difficulty.
In the coming weeks, you will, no doubt, have plenty of important decisions to make. But the first is rather simple. You can either decide to succumb to fear or you can decide to take steps to bolster your faith.
The word "faith" in its broadest definition, is a word that means hope, trust, and confidence. This period will require each of us to decide if we are going to stand up and be strong as we weather this storm, or if we are going to give in and become swamped with negative information and thoughts. It will mean deciding to commit to finding sources of support, strength, and resiliency rather than succumbing to the tidal wave of scary information being pumped out 24/7 by the mainstream media and all major social media platforms.
Protect Yourself and Prepare for the Rebound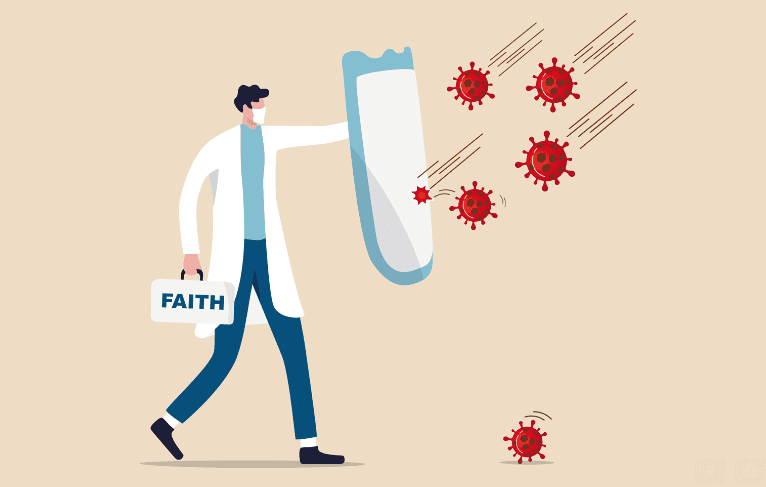 Some of you have known this for years, but one of the worst things you can do right now is turn on a 24-hour television news channel. For decades, their profit strategy has been, simply put, to scare people and panic them because it guarantees more eyeballs. The old saying in journalism is "if it bleeds, it leads," and this is now true more than ever. Scary graphics, bold warnings about emergency updates, and ghoulish death counts are not there to inform you but to render you weak, paralyzed, and helpless.
You need to decide right now that you are going to disconnect from the feed of fear coming at you, and instead develop a filtering process to extract factual, meaningful information from the overly sensationalized feed.
We call it feeding your faith. This means focusing on the things that calm you and build up your sense of security. This can be spending time with your loved ones, focusing on self-care to stay healthy, and being in tune with your beliefs. But it also means focusing on the things that you can control and subscribing to sources of information that teach you steps that you can take rather than ones that try to scare you.
For over 20 years, we have been focused on helping private practice owners become profitable and productive, and we are not going to stop now. Yes, this is a period of transition, but there are useful things that private practice owners can do now to keep their businesses moving and continue to serve their patients.
Your first steps need to be:
1) Develop your personal plan for disconnecting from the fear feed and start building up your feed of faith. Consider writing down the steps you are going to take almost like a personal prescription for proactivity. Be detailed, for instance limiting social media to 30 minutes a day and avoid television news. Put this information where you can review it whenever you feel yourself slipping into the fear feed. Maybe even on a notecard you keep in your pocket.
and
2) If you have not already done so, learn what the CARES act can do to help your financial situation for the next few difficult months. Click here for a resource from the U.S. Chamber of Commerce to help understand it.
As Jay said at the Virtual Crisis Management Conference, "You can't do anything if you are on fear lockdown." It won't be easy to get through this worldwide crisis, but together, we can do it.
Let us be part of building your faith feed. 
Sign up today to receive more practice growth tips and strategies