2020 Was Challenging. Set up 2021 By Reflecting On and Recognizing What You Did Accomplish.
As we head into 2021, Scheduling Institute's CEO and founder, Jay Geier has been encouraging us to spend some time reflecting on 2020 and everything that went on. Which has been A LOT, as we're sure you can agree!
Even though 2020 was a year like no other, and plenty of … let's call them … not great … things occurred, we still found a lot of areas where we are truly proud of what we've accomplished. We hope you did too! And of course, there are some areas we want to improve. But overall, we have a feeling of deep gratitude for everything that came our way – the good things and the bad because it has shaped us into the people we are today.
In fact every year, Jay tells us to follow his family's tradition. The Geier family does this at Thanksgiving, but it really can be done anytime! We think it may be even more impactful to do with your team at your practice at the very end of the year. The tradition is simple – yet super impactful: Create an A-Z list of everything you are thankful for – you will be surprised how easy it is! Start with "A" and think of something you are grateful for that begins with that letter. Then move down the alphabet. You'll be surprised how good it feels to create this list.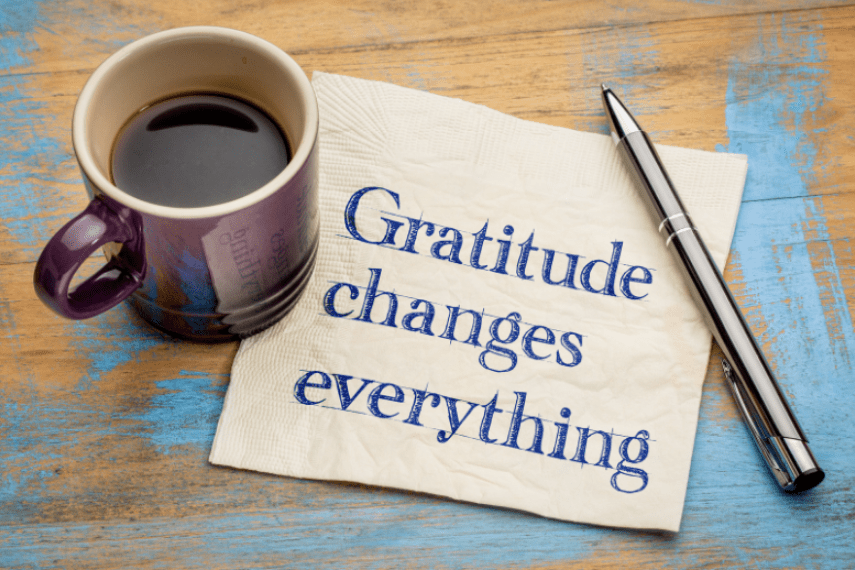 For instance, some of the positive things we listed at the Scheduling Institute are that we are super grateful for the Clients we work with. The way they pulled through the shutdown period of the pandemic was truly inspiring! It's a privilege and an honor to work with doctors all over the world, and we truly appreciate their commitment to staying coachable and learning. In fact, they continue to break records and achieve amazing results as the year finishes out.

We're also grateful for our Team here at Scheduling Institute. All the experiences we create and the content pieces we develop are possible because we work as a team. Our CEO or our management team couldn't do it alone.
Cultivate the Gratitude Habit – And You'll Find the Benefits Are Not Just to Mindset
Reflecting on things you are grateful for is so important. There is plenty of research out there that suggests that when you focus your thoughts on what you are grateful for, you develop a strong ability to appreciate what you have instead of what you lack. When you focus on being grateful, it contributes to a more positive outlook on what is happening and helps you to more easily learn from a bad situation that might normally have broken you down. Some studies even show a correlation between a person cultivating their gratitude and their physical health improving as a result! Happy people experience less stress, exercise more, and don't need to visit the doctor as often.
2020 was a tough year, but please take some time to reflect on everything for which you are grateful. Then, think about what things you want to leave behind you in 2020, and what you are excited to take with you into the new year. What awesome goals will you reach in 2021 as a result of your experiences in 2020?
We hope you are excited to grow your business and to take on accountability in your practice. Maybe this is the year you are ready to truly take your practice to the next level!
After the year we've all just had, it's time to get back to what makes your practice stand apart from the others: Culture. To help with this, we are bringing one of our biggest and most results-producing event back in 2021 – Culture Fest 2.0! The event will be in held LIVE in Atlanta in October … we guarantee results or you'll get your money back. If you missed this event in 2019, you certainly will not want to miss what we have in store in 2021. If you were lucky enough to be there … we know you'll be among the first to secure your tickets now.
Visit www.SICultureFest.com for more details and to secure your tickets.