Is Your Practice More Like a Ritz-Carlton or a Budget Inn?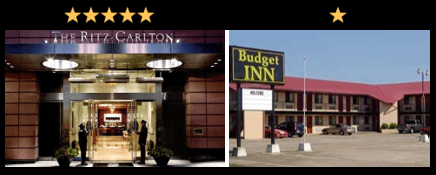 There are no do-overs in the game of first impressions. You only have one chance to make a good first impression.  The majority of the time, the first point of contact a patient has with your practice is over the phone. How the team handles phone calls is one of the most over-looked and untrained areas of a practice. Improving patient experience through your telephone needs to be part of the on-boarding and training process.
See For Yourself…Watch This:
So, how do you know what the first impression is of your practice? How do you know how you stack up against your competition? How do you know what improving patient experience looks like or where to begin?
In the service industry, people rely heavily on rating systems. If you have ever been to a hotel or restaurant, then you are familiar with "the 5-star rating system" as it indicates the quality of service. This highly recognizable rating system easily translates into the quality of service you provide your patients, and more importantly, your ability to get new patients into your practice.
To put this in perspective, let's look at restaurants. To be a 5-star restaurant, the food has to be delicious, the atmosphere impressive, the service impeccable, right? And there's usually a thing or two that makes the restaurant unique and sets it apart from any other restaurant. When you visit a 5-star restaurant, you have "an experience" and leave feeling great!
On the opposite end of the spectrum is a 1-star restaurant. We both know what this looks like! Usually, the tables you eat on and the seats you sit in are plastic. They may have some leftover ketchup or mustard smeared on the table from the visitor before you. The food isn't great, but, after all, you get what you pay for. As far as the service, you don't go in expecting much.
Here at the Scheduling Institute in our 25 years of experience and working with over 122,000 doctors and team members, we have developed and perfected a fool-proof rating system that has been used in over 9,000 practices to help uncover and recover the missed new patient and income opportunities that exist in their practice. We can improve your patient experiences starting from the very first phone call.
Find out how your practice rates…
Call the Scheduling Institute today at 770-518-7575 or click here to schedule a time to speak with one of our Practice Growth Advocates!