All businesses experience a natural ebb and flow and dental practices are no exception. While your established patients may have an examination scheduled every six months, you are less likely to attract new patients during the late fall and early winter. The change in the weather combined with the stress of the upcoming holidays simply keep patients from thinking about their teeth. Such downturns can make it hard to maintain your bottom line. Therefore, it pays to be proactive with new dental practice growth strategies that are designed to get new dental patients all throughout the year.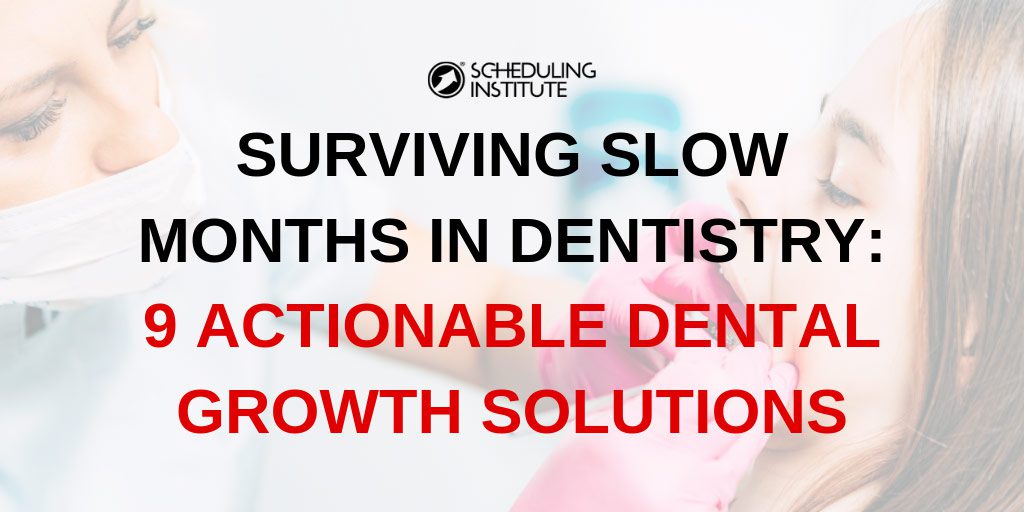 Smart Scheduling
During slow periods, it can be tempting to slow down. Instead, leverage down periods to optimize your efficiency. Start with your scheduling. Schedule your regular patients with morning appointments. Then, when patients call last minute for unplanned appointments, you will still have ample time left in the day to fit them in. What patient wouldn't love a same day appointment? This kind of service fills out your schedule to maximize your profits while engendering loyalty from your patients.
Creative Marketing
Never neglect your dental marketing. However, during the slow months, such marketing warrants even more attention. Be sure that your efforts stay on point with ongoing social media strategies and other traditional advertising outlets. However, you can go beyond these straightforward marketing approaches.
During slower times, you can devote yourself to incentivizing your base with creative marketing tactics. Contemplate creating a rewards program during these times. Offer promotional discounts to attract new patients. Look into the viability of a savings plan to benefit your cash-only patients. Your goals should focus on generating excitement that motivates people to schedule when they might otherwise omit a checkup.
Direct Mail Campaigns
Send out appointment reminder cards, welcome newcomers to the neighborhood, or promote any type of discount, special, or savings. While it may seem outdated, direct mail campaigns are still incredibly effective at generating a response. In fact, when compared to other forms of outreach, the response rate for direct mail campaigns is actually higher than email outreach or social media.
Individual results may vary. However, one case study showed up to a 400% return on investment for one dental office which upped their direct mail game.
Email Reminders
Many practices are going the route of email for their dental marketing these days and for good reason. It's less costly than direct mail campaigns and tends to have a better open rate. Your patients live on their phones, connect with them there. Email isn't exclusively for appointment reminders, leverage the digital world we live in.
While direct mail campaigns may take a little extra work, email outreach is relatively easy to automate and is often done through your existing email system. Running just one additional campaign during the slow months can yield largely positive results. According to a study by The Direct Marketing Association, the average ROI for email marketing campaigns is $41 for every dollar spent.
Website Revisions
This is also an excellent time to tackle that big website revision you've been thinking about. Give your website a facelift, place important messages for new and existing patients alike to see. A well-made website will also aid your search engine rankings. This helps new patients find you when searching for a provider in your area.
The value of local search rankings is well established and backed up by statistical analysis. Among the key stats to keep in mind:

Personal Flourishes
When you brainstorm dental growth strategies, remember not to fixate on numbers. Instead, you need to maintain a keen focus on people. Establishing a personal connection with patients is never out of season, but the issue elicits more attention during the slower months. Your patients have options in regards to their dental care so it is up to you to reach out and make them feel like they are sincerely valued.
After a regular examination, take a few extra moments to send out notes of gratitude. If a patient has undergone a procedure with you, spare a few minutes to follow up with a phone call or a text. These small gestures go a long way in establishing a bond between patients and their dentist. These gestures can also be crucial building blocks to get you through periods with less activity.
Collect Data
In order to maintain a thorough grasp on your slow periods, you need to analyze your data. You should actively keep detailed records of all your patient interactions. You should know precisely how often you see patients and when they typically schedule appointments. Data can reveal how many family members attend your practice and what each patient spends on dental care.
It is possible to track this information independently, but you can streamline the process by investing in advanced dental software. Dental software reveals various metrics that can provide critical insight into your practice. Only with the appropriate in hand can you make informed conclusions about the reasons behind your slower months.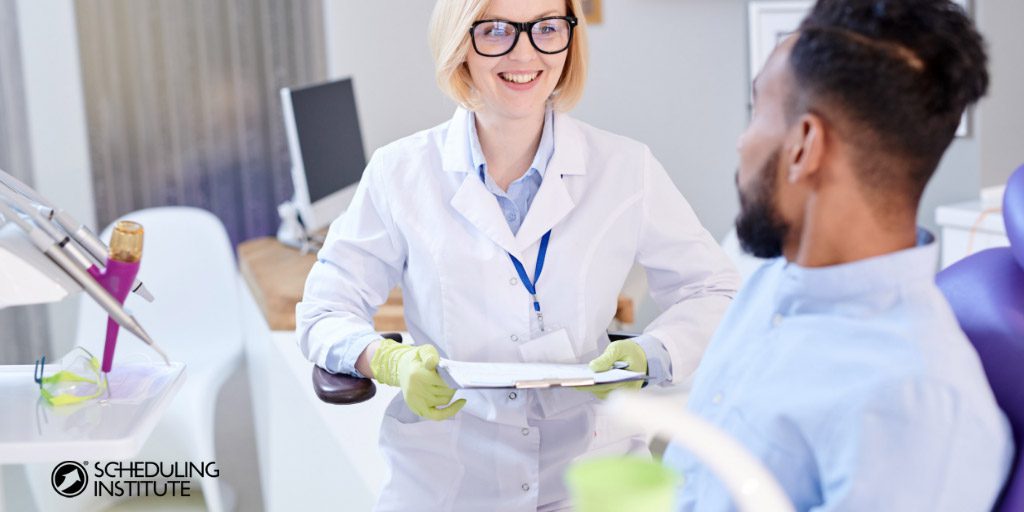 Reconnect with Patients
Slower times of the year are ideal for reconnecting with patients you haven't seen in a while. Let's face it, a lot of patients slack off and fall behind on their treatment plan. This is a perfect time to review patients who are overdue for an appointment and reach out to them.
Most insurance and FSA benefits have yearly maximums, so this is also a good time to remind patients to use their benefits before they expire.
Busy times are great. However, any business has their up and down periods. By taking steps to shore up your dental marketing strategies, you can ensure that the slow times are more manageable. The dental practice growth strategies above can even help turn those slowdowns into areas of opportunity year-round.
Stay the Course
While all these measures help your practice through a downturn, you should never forget that the ebb and flow is inherently natural. When your numbers start to trend down, never panic. Maintain your practice with a positive outlook and proactive measures.
When you know slow months are coming, start ramping up your efforts in the months beforehand. This helps set the stage for the coming downturn and can help navigate you through the slow periods, which Every dental practice will face. Stay the course, and your leadership and insight take your practice through for the long game. We hope you consider these tips to help with your dental practice growth.
Ready to Take Action? Book a Consult Now!
Want more smart dental practice growth strategies tips and tricks? BOOK A CONSULT NOW to see how we can take your practice to the next level.