Culture Fest 2019 is ONLY 22 days away! The Scheduling Institute offices are buzzing with excitement as we prepare for one of the most exciting and transformative events you will ever experience. Make sure to check out all the details of the event here.
Now that your tickets are in hand, here is a handy guide to help you navigate pre-event details – including how to access to our new event app!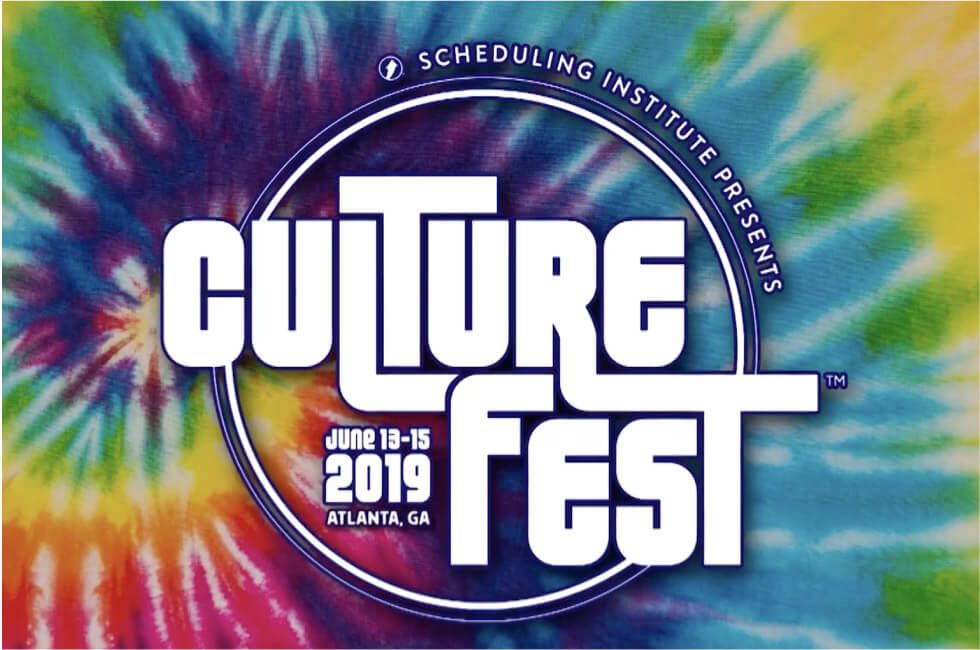 ---
Tip #1: Come Prepared & Ready to Learn the Most Valuable Content of the Year!
Make the most of your time at Culture Fest 2019 by downloading the event app! The app offers loads of features that allow you to make the most of your time during the event. From the best places to eat to what to pack, this handy app will help guide you through the planning process.
PS. Don't forget to bring your jacket! 😉
Need help downloading or navigating your app? Click here for more info.
---
Tip #2: Save Money by Booking with SI
Love Special Offers? We Do, Too!
Save Money on Your Flight
Save some money on all your flights with our special codes available to Scheduling Institute members only. Once you register, let us know and we will send your EXCLUSIVE Culture Fest 2019 airline discount codes for Delta and United.
Have your codes and ready to book? Click on your preferred airline to book your flights and save money!
Book with Delta Book with United
Save Money on Your Hotel
Need to book your hotel? Make sure you book your hotel stay using our unique discount code. You must be registered for Culture Fest 2019 in order to secure your deal. Last day to secure your hotel deal is TODAY, 05/22/19!
Hotel Details
Atlanta Airport Marriott
4711 Best Road | Atlanta, Georgia 30337
The Atlanta Airport Marriott provides continuous shuttle pick up from the airport. Follow the signs to Ground Transportation and meet the shuttle at Zone 1. A rental car is not necessary unless you desire one. Uber, Lyft, and MARTA are all available in the Greater Atlanta Area.
Please note that this hotel is NOT within walking distance to the event venue, however, Scheduling Institute will provide a complimentary shuttle to and from Culture Fest.
---
Tip #3: Don't Forget the Details
Georgia International Convention Center
If you are staying at any of the Gateway Hotel properties (Gateway Marriott, Renaissance, or SpringHill Suites), you can walk to the event venue. Please note all room blocks at these hotels are full.
If you are staying at the Atlanta Airport Marriott on Best Road, Scheduling Institute will provide a complimentary shuttle to and from the event.
If you are staying at any other hotel or location, transportation to the GICC is on your own. The GICC's flat rate parking facility is staffed with knowledgeable and courteous parking attendants and includes 30 handicap spaces.
For more details and travel tips, make sure to download the app!
---
Don't Have Your Special Offers Yet? What Are You Waiting For?
To claim your special Culture Fest 2019 offers, fill out the form below!