We all had our childhood dreams of waking up with superhero powers and single-handedly saving the world. Much like learning with your pure heart that unicorns are not actually real or that stepping on a crack will not in fact break your mother's back, it's time to face some realities about yourself. This may be a news flash to you, but you are not going to be able to single-handedly save the World. You will also not be able to increase the revenue (or the productivity) of your practice on your own. In fact, there is a power that you can learn which is knowing how to utilize team training within your practice.
At the Scheduling Institute, we often talk about the importance of getting yourself the professional coaching you need to know how to make your practice successful. We offer a robust doctor coaching program with levels to fit where you are in your professional (and personal) journey. However, an equally important part in increasing your practice's profitability is YOUR HUMAN CAPITAL, aka Your Team. They will play an integral role in your ultimate success. Just like you need to invest in coaching for yourself, you will need to invest in training for your team.
Given everything that has occurred so far this year, now more than ever it is critical that you and your team are bringing your "A+ Game" to every piece of the patient experience in your office. Team training and employee development should be a major focus in your practice. As our country reopens, existing and potential new patients are going to be looking for the practices. In this case, they desire practices that are going above and beyond to ensure their safety, while still providing an exceptional experience. Is your practice up to the test?
Your Team is Essential To Your Success … Make Sure They Have the Right Tools
Having a well-trained team to implement your vision and goals for your practice is essential.
Training your team is not a cost.
Training your team is an investment in the profitability of your practice.
This simple change in perception is crucial! So many private practice owners look at their team payroll as an unnecessary expense.  Too many believe that investing in team training is an optional expense. This couldn't be further from the truth! Investing in your team makes them more efficient, knowledgeable, consistent, and engaged! These are all essential elements for owners to create a one-of-a-kind experience for patients that will bring them back time and time again for years.
Your team will produce far better results for your practice when they have been given the right tools. Investing in them through team training will provide how and why behind what you want them to do.
Once you fully realize the value of your staff, it will entirely shift your interactions and attention to constantly invest in their training! Think like the Ritz-Carlton … they've grown into a Category of One, internationally renowned business because of their quality staff. That doesn't happen overnight! They invest 250+ hours of training in the first year of operation for every new member of their team!
Be honest with yourself … are you even investing a tenth of that on developing your team? Whether training in customer service, marketing, efficiency, case conversion, can they operate a new piece of equipment? Remember – to get world-class results, you have to invest in and build a world-class team.
YOUR TEAM TRAINING INVESTMENT WILL BE A HUGE CAPITAL RETURN
Regardless of salary, your employees should not be a money drain for you. If utilized and trained correctly, this capital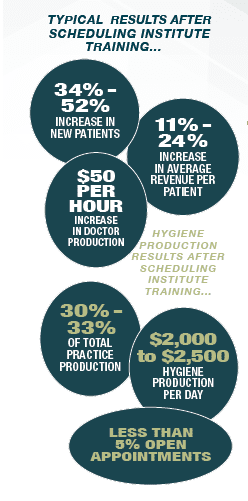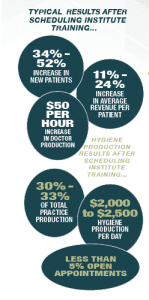 is your opportunity for the biggest return. Each member of your team should over-deliver the value they are bringing to your practice on a daily basis. Educate your team into learning to convert phone inquiries into New Patient appointments and creating impactful marketing. Reiterate streamlining efficiency and experience into their work so current patients are not only retained. All in all, start generating referrals. Your team has the ability to make or break your success.
Scheduling Institute offers over 25 different Training Solutions we conduct in your office, plus specialty programs like our Results Creator Bootcamp series in our Team Training University. When you become a Scheduling Institute member, you have access to all of them and that will give your team, and ultimately your practice's revenue, the boost you need to reach even the highest goals.
Take the opportunity of reopening your private practice after the shutdown to come out of this pandemic better than you started. No superpowers needed … just intention, coach-ability, and the right training.
Learn more about our Team Training call our team at 770-518-7575. We can help determine which one of our award-winning, results-producing Team Training programs is your next best step.